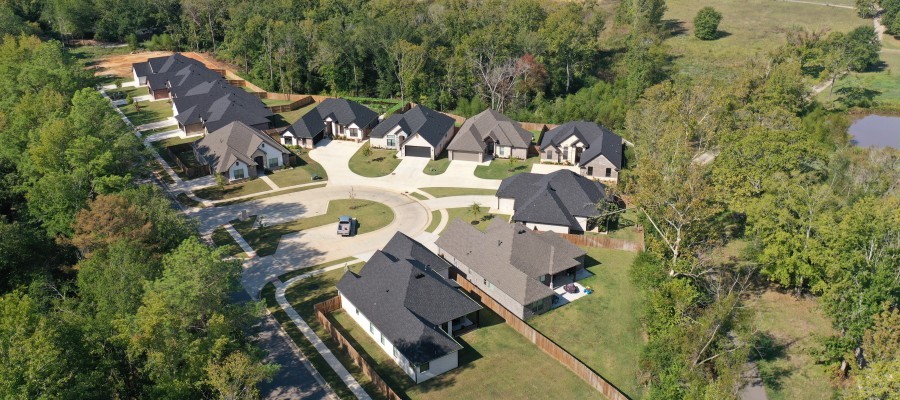 About
With easy access to major roads like Old Jacksonville Highway, Loop 49, and Highway 155, Oak Springs is at the center of the ever-growing area of South Tyler. Tyler's new Legacy Trail system is just a short walk or bike ride away, with access to the many shops, restaurants, and schools in the area.
Oak Springs is located in the fast-growing area of South Tyler near Old Jacksonville Highway just south of Fresh, Three Lakes Middle School, and numerous restaurants and shopping opportunities. Whether by foot or by car, all these sought-after conveniences are just minutes away.
Oak Springs is a master-planned community built on a vision of a community that merges convenience and seclusion. With winding streets through East Texas hills, the tall pine and oak trees, Oak Springs showcases the beauty that East Texas has to offer.
Amenities
Close proximity to the Legacy Trail.
Schools
Elementary School
Middle School

Three Lakes Middle School

High School
Neighborhood
Hospitals

CHRISTUS Trinity Mother Frances Hospital (7.2mi.)
CHRISTUS Trinity Mother Frances Hospital S. Tyler (3.2mi.)
UT Health Hospital (6.8mi.)

Emergency Room

Baylor Scott White Spine & Joint – Urgent Care (3.6cmi.)
CHRISTUS TMF Urgent Care (4mi.)
Hospitality ER (3.5mi.)

Airport

Tyler Pounds Regional Airport (15mi.)

Shopping

Broadway Square Mall (4.1mi.)
Fresh by Brookshires (0.9mi.)
Sams Club (5.8mi.)
Target (3.7mi.)
Walmart Supercenter (3.7mi.)
Frequently Asked Questions
What are the minimum square footage requirements for a home?
Oak Springs Cove - 1700 sqft
Oak Springs Phase 2 - TBD
Is the development managed by a Property Owners Association (POA or HOA)?
Phase 1 - Oak Springs Cove - Privately Managed.
Phase 2 - Currently being developed. Fees to be determined.
How do I reserve a lot in the development (Or purchase a lot)?
Contact our Realtors, Ivy McMillin or Samantha Liles, for information on purchasing and reserving a lot.
Ivy McMillin - 903-312-6018
Samantha Liles - 903-258-2458
What are the utilities provided?
Water - City of Tyler
Trash - City of Tyler
Sewer - City of Tyler
www.cityoftyler.gov
Internet and Cable - Optimum
www.optimum.net
Gas - Center Point Energy
www.centerpointenergy.com
Is there an approval process for building a home?
All homes must be approved by the Architectural Control Committee.
Do I need to use a builder pre-approved by the development, or can I select one of my own choosing?
If requested, the development will give recommended builders for buyers. All builders must be in good standing with development.
What are the deed restrictions?