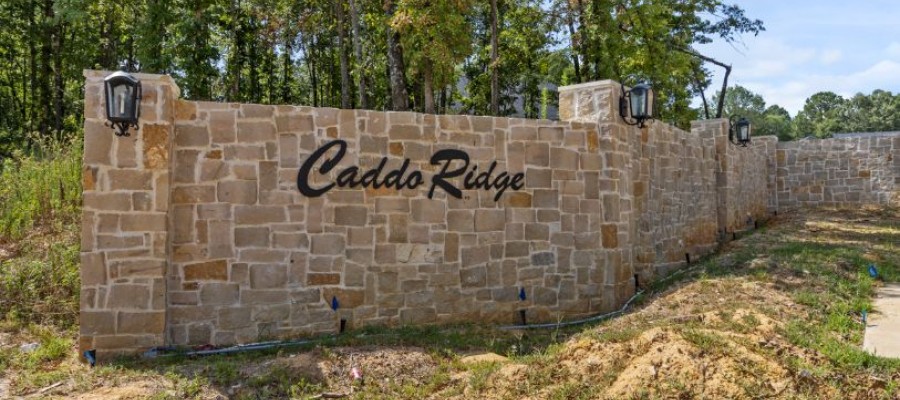 About
Caddo Ridge was developed to offer individuals and families the amenities of Tyler, TX, alongside the natural beauty of East Texas. Throughout development, we've prioritized maintaining the hills, rills, and wooded areas to provide residents with the peace of scenic outdoor landscapes.
Caddo Ridge is a gated sub-community with access to walking trails, splash pad, and the community pool. It offers large lot sizes that have been developed to provide families the opportunity to build the home they've always dreamed of.
Caddo Ridge is a short drive to South Tyler, which features shopping, restaurants, and all the entertainment the Rose City has to offer. It's part of the Whitehouse Independent School District, one of the most respected in the region.
Amenities
Walking trail
Pool
Splad Pad
Schools
Elementary School

Stanton-Smith Elementary School
The Leadership Academy

Middle School

Holloway 6th Grade
Whitehouse Junior High
The Leadership Academy

High School
Neighborhood
Hospitals

Christus Trinity Mother Frances Hospital (12mi.)
CHRISTUS Trinity Mother Frances Hospital South Tyler (1.9mi.)
UT Health Hospital (8.2mi.)

Emergency Room

Baylor Scott White Texas Spine & Joint – Urgent Care (2.3mi.)
CHRISTUS TMF Urgent Care (4.4mi.)
Hospitality ER (8.5 mi.)

Airport

Tyler Pounds Regional Airport (17mi.)

Shopping

Broadway Square Mall (5mi.)
Fresh by Brookshires (5.9mi.)
Sams Club (11mi.)
Target (3.4mi.)
Walmart Supercenter (3.4mi.)
The Villages at Cumberland (1mi.)
Frequently Asked Questions
What are the minimum square footage requirements for a home?
Caddo Ridge - 2500 sqft
Is the development managed by a Property Owners Association (POA or HOA)?
The development is managed by Azalea MC, LLC. Contact (903) 262-0222 for more information.
What are the current dues?
Caddo Ridge - + $700 Annual Assessment
Pool Reserve - + $250 One Payment
Caddo Ridge Gate/Road Reserve - + $300 One Payment
How do I reserve a lot in the development (Or purchase a lot)?
Contact our Realtors, Ivy McMillin or Samantha Liles with Dwell Realty, for information on purchasing and reserving a lot.
Ivy McMillin - 903-312-6018
Samantha Liles - 903-258-2458
What are the utilities provided?
Water - City of Tyler
Trash - City of Tyler
Sewer - City of Tyler
www.cityoftyler.org
Internet and Cable - Optimum
www.optimum.net
Gas - Center Point Energy
www.centerpointenergy.com
Is there an approval process for building a home?
All homes must be approved by the Architectural Control Committee.
Do I need to use a builder pre-approved by the development, or can I select one of my own choosing?
If requested, the development will give recommended builders for buyers. All builders must be in good standing with development.
What are the deed restrictions?